---
KYUSTENDIL
---

The town is situated in the western part of a field with the same name, at the foot of the Osogovo mountain in Bulgaria.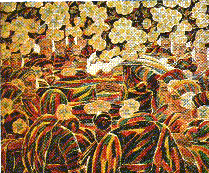 Remarkably beautiful is the town's view from the "Hisarlaka" hill. Kyustendil's history is millenary . As early as the Thracians' lifetime there was a settlement near the mineral springs, located on the same place as the town nowadays. Its name- Poti was changed to Pautalia during the four-century Roman domination. That was the time when Pautalia was thriving and glorious. It became an enormous health resort and curative centre of the Roman empire- a beautiful town, well laid out after the Roman pattern. The massive buildings were decorated with exquisite sculpture figures and the broad straight streets were covered with paving stones.
One of the most impressive buildings in ancient Pautalia was the Roman bath, hospital and temple- asclepion, named after their god Asclepius. The Pautalian asclepion, located beneath the "Hisarlaka" hill, covered an area of 3500m2 and was the biggest one in Elada after the famous Epidaver asclepion.
According to some Roman sources, there was a massive building activity in Pautalia from the time of emperor Ulpee Traian (97-117). In his honour the town was named Ulpea Pautalia. As the legend says, the emperor had incurable wounds all over his body, but he was cured by the mineral springs' magic effect. In order to express his gratitude, he ordered the building of magnificent palaces, baths, stadiums and temples in honour of Asclepius.
Pautalia reached even further development during the time of emperor Mark Aurelius(160-180).Enchanted by the beauty and wealth of this unique plase, he created his best works. In his honour the town's name became Pautalia Aurelia. When the Slavs settled (VIIc.) the town was ruined. It was part of the First Bulgarian country. From 1019 it is known as Velbujd till the end of the XIV century. Later it was named Konstantinowa bania after its ruler Konstantin Gragosh. During the Turkish yoke the town's name was Konstantinili ( Kostendil ). The following change was Kjostendil and the last and present name Kyustendil.

After the Liberation ( 1878 ), Kyustendil is a boundary town and starts declining. It becomes lively again when Macedonian refugees emigrate there. It develops as a centre of fruit, brandy and tobacco trade. In 1910 the town is being connected to a rail- way system and enlarges towards the newly- built boulevard to the station.
Gradually, Kyustendil turns into a national balneotherapy resort. The famous mineral springs have approximate temperature of 73.3o C. The water is being used when curing a huge number of illnesses. A lot of new sanatoriums were built.
The drama theater, the art gallery " Vladimir Dimitrow- the Master ", the archaeological museum and other historical sights such as the Pautalian asclepion' s ruins, Pirgovata kula, the town' s castle wall, etc. are entertaining for the citizens and guests. The park " Hisarlaka " is an excellent place for a rest.

---